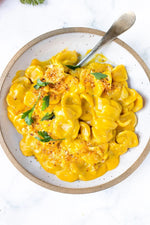 Orecchiette with Carrot Miso Sauce
Ingredients:
8–10 ounces orecchiette pasta, cooked in salted water

2 shallots, rough chopped (or 1/2 an onion)

4–6 garlic cloves, rough chopped

2 cups carrots, thinly sliced (3 medium carrots)

2 cups water

1/4 cup raw cashews

1/4 teaspoon salt

1/4 teaspoon pepper

3 tablespoons White Miso Paste

1/2 cup carrot tops (tender leaves) packed or sub 1/2 cup more Italian Parsley

1/2 cup Italian parsley

1 fat garlic clove

1 tablespoon lemon zest ( zest from one med lemon)

1/4 teaspoon salt

1–2 teaspoons lemon juice
Instructions:
 Set 6-8 cups salted water to boil for pasta, and cook according to directions.

Heat 2 tsp olive oil in a medium pot, over medium heat. Saute shallot and garlic until fragrant and golden, about 5 minutes, stirring often. Add carrots, cashews, water, salt and pepper and bring to a boil. Cover, lower heat to low and simmer gently until carrots are fork-tender, about 15 minutes. Stir in the 3 tablespoons of miso ( it doesn't need to dissolve fully) and let cool for 5-10 minutes.

While the carrots simmer make the optional Carrot Top Gremolata and Toasted Panko or Bread Crumbs.
Carrot Top Gremolata
Place carrot leaves, parsley, lemon zest and garlic in a food processer and pulse repeatedly until finely chopped. Add the salt and remaining olive oil, pulsing a few more times until incorporated (but not too smooth). Add more oil if you prefer a looser version.
Toasted Panko
Place a 1/2 -1 cup of bread crumbs or panko in a large skillet over medium heat, and drizzle with just enough olive oil to lightly coat. Add a good pinch of salt and granulated garlic if you like. Stir until golden, about 5 minutes. Let cool.
Back to the sauce...
Once the carrots are tender and slightly cooled, place all in a high-speed blender, covering tightly with a kitchen towel, blend on the lowest setting, gradually increasing speed, until fully blended, creamy and silky smooth about 1- 1 1/2 minutes.

Drain the pasta and pour the sauce over the pasta, gently warming if needed. Taste and adjust salt. (If you didn't salt your pasta water, chances are you'll need salt.)

Divide among bowls, and sprinkle with toasted bread crumbs and spoon the flavorful Carrot Top Gremolata over top. Finish by drizzling Bourbon Balsamic over plated meal. (Optional)