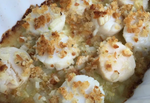 Baked Scallops with Lime Oil & Sriracha Mango Balsamic
Ingredients
8-10 sea scallops
2 Tbsp

 

Lime Olive Oil
2 cloves chopped garlic
1 chopped shallot
1/2c fresh bread crumbs or ¼ c seasoned boxed breadcrumbs
2 Tbsp melted butter
2 Tbsp Garlic Olive Oil
Sriracha Mango Balsamic
Sliced mango
Avocado and halved cherry tomatoes
Fresh lemon juice
Instructions
Rinse 8-10 sea scallops In a small bowl, combine scallops, 2 Tbsp Lime Olive Oil, 2 cloves chopped garlic and 1 chopped shallot.
Prepare 1/2c fresh bread crumbs or use ¼ c seasoned boxed breadcrumbs, mixed with 2 Tbsp melted butter.
Preheat oven to 400. Lay scallops evenly in a baking dish and sprinkle bread crumbs on each scallop. Bake 20 minutes.
Serve over spaghetti mixed with 2 Tbsp Garlic Olive Oil. Drizzle Sriracha Mango Balsamic upon serving.
Serve with sliced mango, avocado and halved cherry tomatoes, drizzled with fresh lemon juice.
Serves 2