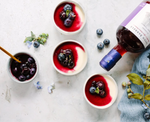 Blueberry Panna Cotta
Preparation: 10 minutes
Cook time: 10 minutes
Chilling time: 4 hours
Serves 4
Ingredients:
1 ½ teaspoons unflavored powdered gelatin
1 tablespoon cold water
1 ½ cups heavy cream
7 tablespoons granulated sugar
1 ½ cups buttermilk
Blueberry Topping:
1 ½ cups blueberries
2 tablespoons granulated sugar
1 tablespoon water
1 teaspoon fresh lemon juice
2 tablespoons Seven Barrels Blueberry Balsamic Vinegar
Freshly grated lemon zest
Instructions:
Put the gelatin in a small dish and mix with the water until dissolved.
Combine the heavy cream and sugar in a saucepan. Place over medium-high heat and whisk to dissolve the sugar. Heat until bubbles begin to form on the edge of the pan, about 5 minutes.
Remove the pan from the heat and stir in the gelatin until it dissolves. Stir in the buttermilk.
Pour into 6 custard cups with ½ cup capacity. Cover and chill until set, about 4 hours.
Meanwhile, make the topping by combining the 1 cup of the blueberries, sugar, water and lemon juice in a small saucepan. Cook about 5 minutes over medium-high heat, or until the berries begin to collapse. Remove from the heat and refrigerate until cool. Stir in the remaining blueberries, balsamic vinegar, and lemon zest.
To serve, spoon some of the blueberry topping over each cup.