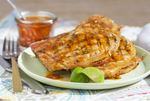 Grilled Pork Chops with Pink Grapefruit-Shallot Glaze
Ingredients
Prepare the marinade and pork chops:
1 large shallot, minced
2 garlic cloves, minced
¼ cup fresh pink grapefruit juice, with small bits of pulp
Zest of 2 fresh limes
2 tablespoons

 

Seven Barrels Pink Grapefruit Balsamic Vinegar
1 tablespoon fresh cilantro, chopped fine
½ teaspoon red pepper flakes
Sea salt and freshly ground black pepper, to taste
2 pounds of boneless pork loin chops (about 6)
Cooking spray (for grill)
Instructions
Make the Pink-Grapefruit Shallot Glaze:
To make the marinade, mix in a large deep bowl the Seven Barrels Miller's Blend Extra Virgin Olive Oil, shallot, garlic, grapefruit juice, lime zest, Seven Barrels Pink Grapefruit Balsamic Vinegar, fresh cilantro, red pepper flakes, and sea salt and pepper.
Reserve 1/4 of the marinade, covered in a small bowl in the refrigerator. Pour 3/4 of the marinade over the pork chops in a large plastic bag (or in a large covered dish) and refrigerate for at least two hours, up to overnight.
Grill the pork chops:
Preheat an outdoor grill or cast iron grill pan to medium-high and spray generously with cooking spray.
Remove the pork chops from the marinade and shake of excess; discard remaining marinade.
Lightly season pork chops with salt and pepper, and grill for about 5-6 minutes per side, turning and basting often with reserved marinade until pork is glazed with crispy edges, and cooked through (finished temperature should read 145 degrees F in the center of the pork chops.)
Allow the pork chops to rest for 5 minutes before serving. Serve with additional Pink-Grapefruit Shallot glaze if desired, and spoon on top of the pork chops.
Serves 4-6.