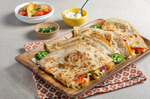 Peach, Basil and Cherry Tomato Quesadillas
Ingredients
4 large tortillas (corn, flour or whole wheat)
2 peaches, pitted and sliced
½ cup red onion, diced
½ cup cherry tomatoes, halved
½ jalapeno, seeds removed, diced
4 tablespoons fresh basil, roughly chopped
2 tablespoon

 

Seven Barrels Sweet Basil Olive Oil
1 tablespoon

 

Seven Barrels Peach White Balsamic Vinegar
½ cup fresh queso or cojita cheese, crumbled
½ cup white cheddar cheese, shredded
Instructions
Preheat a large frying pan over medium-high heat.
Toss sliced peaches, red onions, cherry tomatoes and diced jalapenos with the olive oil and vinegar and let marinate for about 10 minutes. Sauté the mixture for about 5-7 minutes until soft and slightly cooked through. Wipe the frying pan clean with a paper towel and reduce the heat to medium-low.
Lay one of the tortillas into the pan and distribute half of the cooked peach, onion and tomato mixture evenly across the tortilla. Sprinkle with half of the queso cheese and cheddar cheese; top with half of the fresh chopped basil. Place the other tortilla on top.
Cook the quesadilla on one side for approximately 5 minutes, or until the underside is crisp and golden brown. Carefully flip the quesadilla over with a large spatula, and cook for another 5 minutes. Repeat with the additional two quesadillas and remaining cooked mixture and cheese. Slice and serve immediately with some sour cream and salsa, if desired.
Serves 2-4.