Pairs Well With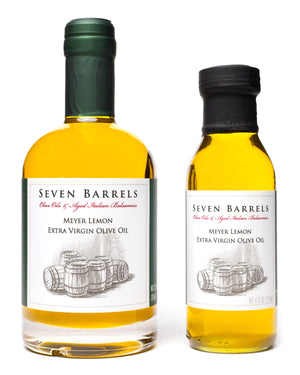 Meyer Lemon Extra Virgin Olive Oil
Shop Now
On Sale
Blueberry Balsamic Vinegar
| Qty | Price | Discount |
| --- | --- | --- |
| Buy 1 | $ 35.00 ea | 0% Off |
| Buy 4 | $ 30.00 ea | 14% Off |
| Buy 6 | $ 28.33 ea | 19% Off |

Life Never Tasted better!
An amazing fusion of fresh blueberries blended with our thick, sweet White Balsamic Vinegar. Awaken your senses, as well as your recipes, with this rich full-bodied flavor.
Drizzle over fine cheeses. An amazing topping over fresh fruits or ice cream. Pairs perfectly with our Meyer Lemon or Blood Orange Olive Oil.
Gourmet Aged White Balsamic Vinegar | Modena, ITALY
All Natural. No Artificial flavors or additional ingredients.
GLUTEN-FREE and VEGAN
FREE SHIPPING on All Orders over

$

5

9.00 USD
TASTE-
Taste is sweet and flavorful with light notes of blueberry and Trebbiano grapes. 
LOOK-
Balsamic liquid is clear and dark, purple in color. Homogeneous and without deposits.
SMELL-
Sweet and fruity aroma. Aromas of wood, Trebbiano grape, dried fruit, and floral notes
INGREDIENTS- 
White Balsamic Condiment (White Wine Vinegar, Concentrated Grape Must, Grape Must, Sugar) Blueberry Juice, Natural Flavor.
*This product is made in a facility that also processes nuts, oils, soy & dairy. 
*Contains naturally occurring sulfites.
Featured Recipe:

  Blueberry Panna Cotta
Recipes
Original Seven Barrels recipes featuring Seven Barrels Extra Virgin Olive Oil, and Balsamic Vinegar. Visit our recipes page to see all of our artisan crafted recipes.