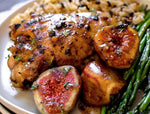 Vanilla Fig Balsamic Chicken
Ingredients:
1 Tablespoon Herbes De Provence Extra olive oil, plus more as needed

1 pound chicken thighs

salt and pepper

3 garlic cloves

¼ cup balsamic vinegar

1 Tablespoon dijon mustard

2 Tablespoon fresh thyme

2 Tablespoons honey

1 pound fresh figs, stem trimmed off and halved (Optional)
Instructions:
Mix together the balsamic vinegar, honey, mustard, thyme, and garlic cloves in a small bowl. Set aside.

In a heavy bottomed pan over medium low heat, pour the olive oil into the pan, and season the chicken with salt and pepper. Once the oil is hot add the chicken thighs skin side down. Cook the chicken thighs for 7-10 minutes, or until the skin is deeply gold brown and easily releases from the pan. Add more oil as needed
Flip the chicken and cook on the other side until golden brown and the chicken is cooked through all the way, reaching an internal temperature of 165°F. About 10 minutes.

Pour the balsamic vinegar sauce and figs (if using) into the pan and bring to a simmer. Let the sauce reduce by half, stirring occasionally to get any stuck on bits from the bottom of the pan.
Flip the chicken in the sauce, letting the skin side sit in it for just a moment to moisten and get flavor, then serve skin side up with a healthy spoonful or two of the sauce over the top.
If figs are not in season or you choose to not use, add an additional 1/3 cup of vanilla fig balsamic Vinegar and 1 tbsp of olive oil to the balsamic vinegar sauce. If you find that the sauce is too thick to your liking add 1 tbsp of water and mix until incorporated. 
Enjoy!