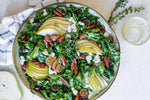 Ingredients:
2 heads kale
1/4 cup Pecans
1/4 cup Feta cheese crumbled
1/4 cup grapes sliced
1 pear sliced

Dressing:

1/4 cup olive oil Tuscan Herb Extra Virgin Olive Oil
2 tablespoons Red Apple Balsamic Vinegar
1 tablespoon maple syrup
1 clove garlic clove
1 tsp fresh thyme
Salt and pepper
Instructions:
Remove the stems from the kale, and tear up with your hands into bite size piece. Place in a large bowl.

To make the dressing, whisk together the olive oil, red apple balsamic, maple syrup, garlic, thyme, salt and pepper. You can also use a mini blender like I did for easier blending.

Pour the dressing over the kale and toss well to combine. You can also massage the dressing into the kale with your hands.

Arrange the pecans, feta cheese, grapes and pears on top of the tossed kale, and enjoy!