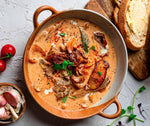 Tuscan Wild Mushroom Creamy Soup
Ingredients:
4 cloves garlic minced
1 white onion finely diced
1 pepper chopped into 4cm squares
2 tbsp Pure Dairy Free Sunflower Spread
5-6 sun dried tomatoes chopped into small chunks
200 g mixed mushrooms chopped
400 ml veg stock made with boiling water and 1/2 stock cube
200 ml plant based cream can also use oat based creme fraiche
2 tbsp Red Apple Balsamic Vinegar
2 tbsp Tuscan Herb Extra Virgin Olive Oil
1 tbsp smoked paprika
1 tsp dried basil
1 tsp dried oregano
1 tsp dried thyme
Large pinch salt & pepper
1 tbsp cornflour to thicken, optional
2 bay leaves not essential but works beautifully
Instructions:
Add the Pure spread to a deep pan, place on a medium heat then add the onions and fry for around 5 minutes

Add the minced garlic cloves, sundried tomatoes, pepper and mushrooms to the pan along with all of the herbs and fry for a further 6-7 minutes

Once the mushrooms have browned add the vegetable stock, give a stir then reduce the heat right down

Add the cream and stir together, taste test adding more seasoning / herbs if needed. Last add extra virgin olive oil and balsamic vinegar and stir until fully incorporated. 

Serve with a slice of crusty bread.
Enjoy!