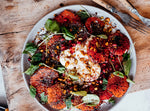 Burrata and Blood Orange Pistachio Salad
Ingredients:
4 blood oranges
6 ounces burrata cheese
½ cup pomegranate seeds
¼ cup pistachios, roughly chopped
1 tablespoon chia seeds
1 teaspoon sumac
5 tablespoons Herbes De Provence extra virgin olive oil
3 tablespoons white balsamic vinegar
1 teaspoon flakey sea salt
1 teaspoon fresh cracked black pepper
1 ounce watercress
1 bunch mint, torn into pieces
Instructions:
Slice a thin sliver off the top and bottom of each orange so that the orange stands flat. Then use a small sharp knife to carefully cut downwards along the curve of the orange to remove the remaining skin.

Heat a frying pan on high heat, brush a little olive oil onto both sides of the orange slices, and place them in the pan. Cook until they begin to lightly blacken/charr, about 30 seconds.

Place the burrata cheese directly in the center of a serving plate and either leave it whole or pull it apart into quarters if you like. Arrange the orange slices around the cheese. Scatter the pomegranate seeds, pistachios, chia seeds, and sumac on top.
Drizzle with olive oil and white balsamic vinegar, season with flakey salt and fresh cracked pepper, and scatter the watercress and torn mint on top. Serve immediately.
Enjoy!