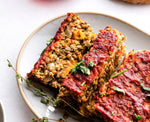 Maple Balsamic Lentil Loaf with Butternut Squash
Ingredients:
For Butternut Squash:
3 cups cubed butternut squash
1 teaspoon Rosemary extra virgin olive oil
Pinch salt
Pinch pepper
For The Lentil Loaf:
1 cup dry lentils or 2 ½ cups cooked lentils
1 tablespoon flaxseed meal
3 tablespoons water
2 teaspoons Rosemary extra virgin olive oil
½ cup diced onion
1 cup diced celery
2 cloves garlic, minced
2 teaspoons minced fresh thyme
1 teaspoon minced fresh rosemary
¼ teaspoon cinnamon
½ cup gluten-free rolled oats
1 ½ tablespoons liquid aminos OR tamari
For The Maple Balsamic Glaze:
2 tablespoons tomato paste
2 tablespoon Maple balsamic vinegar
2 teaspoons honey
Instructions:
Preheat the oven to 450 degrees. Toss the squash, oil, salt, and pepper on a baking sheet. Roast for 20 minutes. Remove from the oven and set aside.
While the squash cooks, bring a large pot of water to a boil. Add in the lentils and cook until very tender, about 20-25 minutes.

Heat the olive oil in a medium skillet. Add in the onions and celery, and sauté until the onions are translucent, about 7-10 minutes. Add in the garlic, thyme, rosemary, and cinnamon. Sauté another 30 seconds, or until fragrant. Remove from the heat and set aside.

Reduce the oven to 350 degrees and line a loaf pan with a parchment paper sling.

In a large bowl, whisk together the flaxseed and 3 tablespoons of water. Add in ½ of the cooked squash and ¾ of the cooked lentils. Using a potato masher, mash the mixture until it resembles a paste. Stir in the remaining lentils and squash, oats, and tamari. Add in the sautéed vegetables and stir until well mixed.

Fill the lined loaf pan with the filling, pressing down on the top to compact it into the pan. Bake for 45 minutes.

While the loaf is baking, stir together all the glaze ingredients.

After 45 minutes of baking, remove the loaf from the oven and spoon on the glaze, spreading it out to coat the top of the loaf. Return to the oven for 15 more minutes. Remove and allow to cool for at least 10 minutes before slicing and serving.
Enjoy!