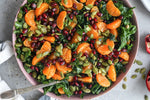 Pomegranate Kale Salad with Honey-Lavender Vinaigrette
Ingredients:
For the kale salad:
1 bunch of kale, leaves removed from the stems & chopped
5-6 clementine oranges, peeled, sectioned and cut in half
1 cup pomegranate seeds
¼ cup pepitas
For the honey-lavender vinaigrette:
2 lemons, juiced
4 tsp honey
Cracked black pepper
Instructions:
To make the honey-lemon vinaigrette:
Pour your lemon juice, honey, olive oil, and balsamic vinegar into a bowl and add 3-4 cracks of black pepper. Whisk your ingredients together until the honey fully dissolves then set it aside while you prepare the rest of your ingredients.

To toast the pepitas:
Preheat your oven to 375 degrees and line a baking sheet with parchment paper.
Next spread your pepitas out on the pan and toast them in the oven for 5-6 minutes. (It's ok if most of them are still green & not golden.) Set them aside to cool completely.

To make the kale salad:
Place your chopped kale leaves in a large bowl. Then squeeze your lemon and drizzle a small amount of olive oil over the leaves. Use your hands to massage the kale for 5 minutes or until the leaves begins to soften and turn dark green.
Next add your massaged kale, clementine oranges and pomegranate seeds to a large bowl and toss in your desired amount of dressing. Sprinkle your toasted pepitas over the top and serve immediately.
Enjoy!