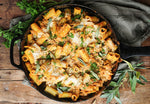 Pumpkin Baked Sage Ziti and Sausage
Ingredients:
12 ounces ziti or rigatoni noodles, cooked to al dente
1 pound sage sausage (can substitute for sweet Italian)
2 tablespoons traditionale balsamic vinegar
2 tablespoons tuscan herb extra virgin olive oil
1/2 onion, diced
2 cloves garlic, minced
1 bay leaf
4 sage leaves, chopped
1/2 teaspoon nutmeg
1/4 teaspoon red pepper flakes
pinch of cinnamon
1/2 cup dry white wine (like chardonnay)
1 cup vegetable stock
15 oz can pumpkin puree
salt and pepper to taste
1/4 cup finely grated Parmesan cheese
Instructions:
Preheat the oven to 350

Brown the sausage in a skillet (preferably cast iron) over medium high heat until the fat is rendered and the sausage is no longer pink. Transfer to a bowl and reserve.

In the same skillet, add 1 tablespoon olive oil, 1 tablespoon balsamic vinegar, the onion, garlic, and bay leaf. Cook until the onion is translucent, about 3 minutes. Add the sage leaves, red pepper flakes, cinnamon, nutmeg, and salt / pepper to taste. Cook one more minute.

Add the wine and cook until reduced by half. The heat should remain to medium high. Add the stock and stir in the pumpkin puree, and remaining 1 tablespoon of olive oil and balsamic vinegar. Mix until everything is incorporated. The pumpkin will thicken the sauce.

Stir in the sausage and transfer to a large bowl with the pasta. Mix until combined.
Transfer back to your cast iron skillet (or a baking dish) and top with Parmesan cheese. Bake for 25-35 minutes until bubbly.

Garnish with sage and parsley. Fried sage is good too! Enjoy this with a nice glass of white wine, preferably the one you used earlier.
Enjoy!