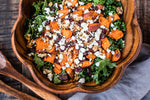 Roasted Sweet Potato Salad with Cranberries, Walnuts, and Goat Cheese
Ingredients:
2 medium sized sweet potatoes, roughly diced
1 tablespoon Herbes De Provence extra virgin olive oil
1/4 teaspoon salt
1/4 teaspoon ground black pepper
6 cups kale, stems removed and torn into bite-sized pieces
1 teaspoon lemon juice
1/4 cup dried cranberries
1/3 cup walnut pieces, toasted
1/4 cup goat cheese crumbles
For the vinaigrette:
2 tablespoons Red Apple Balsamic Vinegar
1 tablespoon minced shallot
1 teaspoon honey
1/4 cup Herbes De Provence extra virgin olive oil
1 teaspoon dijon mustard
1/16 teaspoon salt
1/16 teaspoon ground black pepper
Instructions:
Roast sweet potatoes: Preheat oven to 400°F. Toss potatoes in 1 tablespoon oil, and sprinkle with salt and pepper. Spread in a single layer on a sheet pan. Roast in oven for 40-45 minutes, until sweet potatoes are soften all the way through and crisping on the edges. Set aside to cool.

Prep the kale: place torn kale pieces in a salad bowl. Drizzle with lemon juice. Using your hands, massage the kale with the lemon juice until the kale is bright green (Why do this? It makes is softer, easier to digest, and nicer to eat).
Top kale with sweet potatoes, cranberries, walnut pieces, and goat cheese crumbles.

Make vinaigrette: combine all ingredients for vinaigrette in a jar and shake to combine. Drizzle vinaigrette over salad, and serve.
Enjoy!