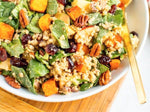 Ingredients:
4 cups fresh baby spinach, chopped
1 ½ cups cooked quinoa, cooked according to package directions (1/2 cup dry quinoa)
¾ cup butternut squash, chopped
1 medium apple, peeled and chopped
⅓ cup pepitas, pumpkin seeds or pecans
3 Tablespoons dried cranberries
Tahini Red Apple Balsamic Vinegar Dressing:
2 Tablespoons tahini
2 Tablespoons Red Apple Balsamic Vinegar
2 Tablespoons Tuscan Herb Extra Virgin Olive Oil
2 Tablespoons lemon juice
2 Tablespoons low sodium tamari or aminos
4 Tablespoons nutritional yeast
2 teaspoons minced garlic, about 2 cloves
2 teaspoons maple syrup
Instructions:
Prepare the squash by peeling it, cutting it in half and scraping out the seeds.
Cut the squash into bite-size cubes, place on a lightly oiled baking sheet and roast at 400° for 30-40 minutes, turning once or twice, until all the pieces are tender and have a few small brown spots.

If your pepitas or pecans are raw, you can toast them in the oven with the roasting squash. Spread seeds/nuts on a separate baking sheet and add to the oven with the butternut squash for 5 to 10 minutes or until the seeds/nuts are golden and crunchy, then remove from the pan to cool. Be sure to watch the seeds/nuts carefully because they can burn quickly. The pepitas will take less time to toast than the pecans because they're smaller.

While roasting the squash, toss together spinach, cooked quinoa, apple and cranberries in a large salad bowl. Add cooled pepitas (or pecans) once they've been toasted.

Prepare dressing by placing all remaining ingredients (tahini through maple syrup) in a blender and blend until smooth.

Once the butternut squash is done roasting, allow it to cool and then place into the salad bowl with the other ingredients. Pour the dressing over the salad and toss to coat. Serve immediately. Enjoy!