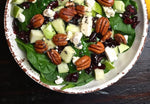 Spinach, Apple, and Cranberry Salad
Ingredients:
6 oz fresh baby spinach
2/3 cup dried cranberries
2 Granny Smith apples medium, unpeeled and chopped
1/2 cup crumbled feta cheese
1/2 cup pecans toasted
For pomegranate balsamic poopy seed dressing:
2 Tbsp honey
3 Tbsp lemon juice fresh squeezed
1 tsp onion powder
1/2 tsp garlic powder
1/2 tsp kosher salt
1/4 tsp ground black pepper
3 Tbsp Sweet Basil Extra Virgin Olive Oil
3 Tbsp Pomegranate Balsamic Vinegar
3 Tbsp water
1 tsp poppy seeds
Instructions:
Place spinach, dried fruit, apples, feta and pecans in a large bowl.

Put all dressing ingredients in a small mason jar with a lid and shake well.

Pour dressing over the salad and toss gently. Serve immediately.