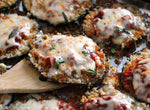 Ingredients:
1 medium eggplant, cut into 1/4-inch slices
2 eggs
1 tablespoon water
1 cup panko breadcrumbs
1/4 cup grated parmesan cheese
1 teaspoon dried oregano
1 teaspoon dried basil
1/2 teaspoon garlic powder
2 tablespoons Garlic extra virgin olive oil
2 tablespoons Traditionale balsamic vinegar
1 (25 ounce) jar marinara sauce
8 ounces mozzarella cheese, shredded
julienned fresh basil, optional
Instructions:
Spread the sliced eggplant in a single layer onto paper towels. Generously salt the eggplant and let it sit for 15 minutes. Flip the eggplant, salt the other side, and let sit for another 15 minutes. Rinse the eggplant with water and pat dry with clean paper towels.

Preheat your oven to 375 degrees. Combine the panko breadcrumbs, parmesan cheese, dried basil, dried oregano, and garlic powder in a shallow dish. In a separate dish, lightly beat the eggs with the water.

Dip the eggplant slices in the egg and then the breadcrumb mixture, pressing the breadcrumbs onto the eggplant to evenly coat both sides.

Place the breaded eggplant in a single layer on the baking sheet, and drizzle with extra virgin olive oil and balsamic vinegar.

Bake in the preheated oven for 15 minutes, flip the slices, then bake for an additional 10 minutes on the other side. Spoon sauce onto each slice and top with shredded cheese. Return to the oven and continue baking for an additional 10 minutes, or until the cheese is melted. Top with fresh basil right before serving.
Enjoy!