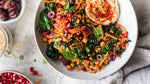 Ingredients:
ROASTED CHICKPEAS

2 cups cooked chickpeas

1 tbsp garlic extra virgin olive oil

1 tsp ground cumin

1 tsp smoked paprika

½ tsp garlic salt

DRESSING

2 tsp harissa paste, adjust to taste (some brands are spicier than others)

1 tsp extra virgin olive oil, plus 1 tsp for the kale

1 tbsp bourbon balsamic vinegar

1 tbsp orange juice

1 tbsp lemon juice

salt and pepper, to taste

SALAD

2 leaves of kale (I used Cavolo Nero, aka lacinato / dragon kale)

1 cup cumin-spiced chickpeas

1½ cups cooked quinoa

2 carrots, coarsely grated or julienned

1 Romano pepper, sliced thinly

50 g / 1.5 oz baby spinach

¼ cup pomegranate seeds

10 black Kalamata olives, sliced

100 g / 3 oz plain hummus

2 tsbp fresh parsley or coriander, chopped finely
Instructions:
ROASTED CHICKPEAS

Drain the chickpeas well. Spread them on a large plate or tray and allow them to air dry, if you have time (I tend to let them air dry overnight). If you are in a rush, blot them on a clean kitchen or paper towel.

Heat up a heavy-bottomed pan on a medium-high heat. Pour 1 tablespoon of olive oil in the hot pan and wait a few seconds for the oil to heat up.
Chuck the drained chickpeas into the hot oil, they should sizzle when they hit the pan.

Let the chickpeas roast slowly, giving them a stir from time to time so that they don't burn (a little char here and there is nice).
Take the pan off the heat and sprinkle the chickpeas with the spices and salt. Mix to coat evenly. Keep on stirring on a few seconds – the spices will toast gently in the residual heat.

DRESSING

Mix all the dressing ingredients in a medium mixing bowl.
Season with salt and pepper to taste.

SALAD

Cut the thick stems off the kale and massage a little bit of olive oil into the leaves to soften them. Set aside for a few minutes.

In a mixing bowl combine the chickpeas, quinoa, carrots, red pepper, spinach, pomegranate seeds and olives.

Chop the softened kale finely and add it to the rest of the ingredients.
Stir the dressing through the salad. Taste and adjust the seasoning as required.
Divide between two bowls, add a dollop of hummus to each bowl and sprinkle with fresh parsley, Enjoy!