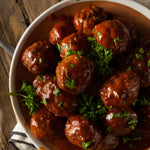 Sweet and Spicy Raspberry Cocktail Meatballs
Ingredients
For the Meatballs:
2 lbs. ground chuck
1 cup bread crumbs
2 large eggs slightly beaten
2 tablespoons Sweet Chili Sauce
2 tablespoons Worcestershire Sauce
2 tablespoons minced onion opt.
½ teaspoon salt
2 teaspoon Sweet Basil Extra Virgin Olive Oil
For the Cranberry Pepper Jelly Sauce:
10 oz. jar Hot Pepper Jelly
12 oz. jar Chili Sauce
8 oz. can Jellied Cranberry Sauce
4 tablespoons Raspberry Balsamic Vinegar
2 tablespoons dark brown sugar
juice from ½ lemon
Instructions:
For the Meatballs:
Preheat oven to 350F and line a baking sheet with parchment paper.
In a large bowl, combine ground chuck, breadcrumbs, eggs, chili sauce, Worcestershire Sauce, onion and salt. Mix until all ingredients are incorporated but do not overwork the mixture or the meatballs will be tough.
Form into 1½ inch meatballs and place on the prepared baking sheet. Leave at least 1-inch space between meatballs.
Cook at 350F for 10 minutes then turn each meatball over. Cook another 10-15 minutes or until meatballs are cooked through. Remove from oven.
"While meatballs are cooking, prepare the sauce.
For the Sauce:
In a large skillet over LOW heat, combine all sauce ingredients. Stir until well blended then remove from heat until the meatballs are ready.
When meatballs are cooked, place them in the sauce in the skillet and simmer for 1-hour or until sauce has thickened.
ENJOY!
*The meatballs and sauce can simmer on HIGH in a slow-cooker for the last hour.