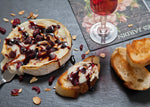 Ingredients
1 small round of Brie
¼ cup dried cranberries
¼ cup sliced almonds, lightly toasted
Black Currant Balsamic Vinegar
Instructions
Preheat oven to 375.
Slice the top rind, neatly, off of the cheese. Sprinkle the cranberries and almonds on top of round.
Place cheese on an ovenproof dish; bake at 375 for 10 minutes, until cheese just begins to melt.
Drizzle with Black Currant Balsamic Vinegar.
Serve with bread, crostini, or crackers.
Save