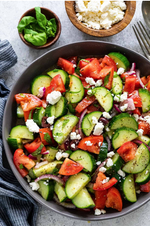 Ingredients
1 pound English cucumber
1 pound Roma tomatoes
½ cup red onion, ⅛-inch thick slices
¼ cup kalamata olives, pitted and sliced
1 tablespoon basil leaves, thinly sliced
1 tablespoon mint leaves, thinly sliced
1 teaspoon dijon mustard
½ teaspoon kosher salt
¼ teaspoon black pepper
¼ teaspoon dried oregano, plus extra for sprinkling
½ cup extra-virgin olive oil
¼ cup feta cheese, crumbled
¼ cup Cucumber Balsamic Vinegar 
3 tablespoons Meyer Lemon Extra Virgin Olive Oil
Instructions
Cut the cucumber by halving it lengthwise, then chop into ½-inch thick slices. This should yield about 3 cups.
Cut the tomatoes into quarters lengthwise, then into ½-inch thick wedges.
In a large bowl combine cucumbers, tomatoes, red onion, olives, basil, and mint. Set aside.
In a medium bowl whisk together Cucumber balsamic vinegar, Meyer Lemon Extra Virgin Olive Oil, mustard, salt, pepper, and oregano.
Slowly drizzle in the olive oil, constantly whisking until an emulsified and lightly thickened dressing forms. Taste and season with more salt and pepper as desired.
Pour the dressing over the vegetable mix, toss to combine. Allow the salad to marinate for 10 to 15 minutes before serving.
Stir the salad and transfer to a serving dish. Sprinkle it with crumbled feta, salt, pepper, and dried oregano.
Enjoy!