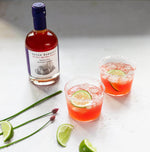 Prickly Pear Margarita
Preparation: Preparation: 5 minutes Cook time: 0 minutes
Ingredients:
Fresh lime slices 
Coarse salt
Crushed ice
4 ounces silver tequila
3 ounces Seven Barrels Prickly Pear Balsamic Vinegar
3 ounces fresh lime juice
4 dashes cocktail bitters (such as Peychaud's)
Instructions:
Run a lime slice around the rim of two glasses.
Put about 2 tablespoons salt on a small plate, then turn the glasses upside down to coat the rim in salt.
Fill the glasses with ice.
Combine tequila, vinegar, lime juice and bitters in a cocktail shaker with crushed ice.
Shake vigorously until well mixed.
Pour into the glasses, garnish with lime slices and enjoy!
Enjoy!