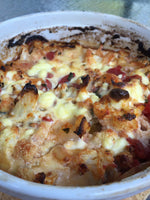 Roasted Cauliflower Gratin
(add bacon for a non-vegetarian version)
Ingredients
Head of cauliflower, cut into florets
4 Tbsp Seven Barrels Basil Olive Oil
3 garlic cloves, minced
½ large Vidalia Onion or Red Onion, sliced thin
1 14-oz can diced tomatoes, with juice
2 eggs
4 oz goat softened goat cheese
S&P
1 tsp Thyme
2 Tbsp chopped cilantro
OPTIONAL: Add bacon, torn into small pieces.
Instructions
Preheat a large frying pan over medium-high heat.
Preheat oven to 425. Line a baking sheet with parchment or foil. Toss cauliflower florets with 3 Tbsp Basil Olive Oil, S&P, and roast for 20 minutes. Remove from oven. Reduce oven heat to 350.
Heat 1 Tbsp Basil Olive Oil in skillet and add onion. Cook until tender, about 5 minutes. Add garlic & salt. Then, add tomatoes, cilantro, thyme and S&P and simmer for 10 minutes.
Combine cauliflower and tomato mixture in an ovenproof bowl.
In a separate bowl, beat eggs with softened goat cheese, with a whisk. It doesn't have to be smooth. Pour over cauliflower/tomato mixture. Cook for 30 minutes. It will be creamy & bubbly & beautiful & delicious.