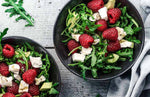 Salad with Goat Cheese, Avocado & Raspberries
Ingredients:
1 avocado
1/2 cup goat cream cheese
3 cups arugula
6 oz. raspberries
2 tablespoons Herbes De Provence Extra Virgin Olive Oil
2 tablespoons vanilla fig balsamic vinegar
salt and pepper to taste
Instructions:
In a salad bowl combine arugula, raspberries, and goat cream cheese. Drizzle balsamic vinegar and extra virgin olive oil over salad.
Finish by topping salad with sliced avocado, serve immediately. Enjoy!