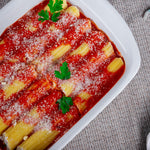 Cheese & Pumpkin-Filled Manicotti
Ingredients
1 package (8 ounces) manicotti shells
1 container (15 ounces) ricotta cheese
2 cups shredded part-skim mozzarella cheese, divided
1 cup canned pumpkin
1/4 cup grated Parmesan cheese
2 large egg yolks
1/4 teaspoon ground nutmeg
1 jar (24 ounces) garlic pasta sauce, divided
2 tbsp Tuscan Herb Balsamic Vinegar
2 tbsp White Balsamic Vinegar
Instructions:
Preheat oven to 350°. Cook manicotti shells according to package directions for al dente. Drain.
In a large bowl, mix ricotta cheese, 1 cup mozzarella cheese, pumpkin, Parmesan cheese, egg yolks, nutmeg, tuscan herb extra virgin olive oil, white balsamic vinegar. Spoon into manicotti.
Spread 1 cup pasta sauce into a greased 13x9-in. baking dish. Top with stuffed manicotti. Pour remaining pasta sauce over top; sprinkle with remaining mozzarella cheese. Bake, covered, 25-30 minutes or until cheese is melted.
Enjoy!