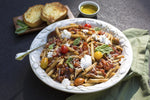 Balsamic Tomato-Basil Pasta
Ingredients
1 pound of pasta, reserving some of the pasta cooking water
1 tablespoon Seven Barrels Sweet Basil extra virgin olive oil
4-6 large tomatoes, diced
1 small onion, diced (about 1/2 cup)
3 cloves garlic, minced
1/2 teaspoon dried red pepper flakes
1/2 cup Seven Barrels Traditional Balsamic vinegar
1/4 cup chicken stock
2 tablespoons cornstarch
1/4 cup grated Parmesan cheese
1/4 cup fresh ricotta cheese, for garnish
1/4 cup fresh basil, torn into pieces, for garnish
Sea salt
Freshly ground black pepper
Preparation
Cook pasta according to package directions, drain and set aside.
In a large skillet, heat the olive oil over medium-high heat. Once the oil is hot, add tomatoes, onions, garlic and red pepper flakes.
Reduce the heat to medium and cook 3 to 5 minutes over medium heat, until onions begin to get soft and lightly browned and tomatoes release some of their liquid.
Place balsamic vinegar, chicken stock, and cornstarch in a small bowl and whisk well. Carefully add it to the skillet and continue to cook for a few minutes more until the sauce slightly thickens; remove from the heat.
Add the cooked pasta to the skillet with the tomatoes, and toss together over low heat for an additional few minutes until the sauce coats the pasta. Add a small amount of the pasta cooking water if the mixture is too dry, to your desired sauce consistency.
Place the pasta in large bowl and top with fresh grated Parmesan, ricotta cheese, and basil. Season with salt and pepper to taste.
Serve hot, immediately with some crusty garlic bread.
Serves 4-6.