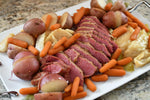 Bourbon Corned Beef & Cabbage
Ingredients:
4 Large carrots, chopped into large pieces

6 Medium russet potatoes, quartered

1 Onion, pealed and quartered

2 teaspoons minced garlic

1 (4 pound) corned beef brisket

1 Cup Bourbon Balsamic Vinegar

3 cups of beef broth

1 Tablespoon salt

2 teaspoons fresh pepper

1/2 head of cabbage, coarsely chopped
Instructions:
Place carrots, potatoes & onion on the bottom of your crock pot.

Top vegetables with minced garlic.

Pour in the beef broth, and Bourbon Balsamic Vinegar

Rinse off brisket to clean off excess blood. Trim off fat if desired.

Place brisket on top of vegetables.

Sprinkle on the spices that came with brisket as well as the salt and pepper..

Cook brisket on low for 8 hours. If your crock pot cooks hot, then lower cooking time. Corned Beef should read around 160*F before cabbage added and 190*F when fully cooked.

Place cabbage in crock pot 1 hour prior to serving. (Or cook separately so flavors don't meld)

Once corned beef reaches 190*F the brisket is done. Remove from crock pot to rest for 5 minutes before slicing and serving..